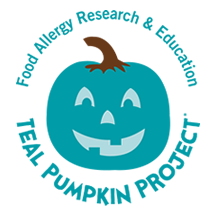 It's almost Halloween. Just a few more weeks to go. The last couple of years, we've participated in the
Teal Pumpkin Project
. The goal of the project is to make sure that there are non food treats on hand for kids with food allergies. I have pencils, stickers, bubbles, and other trinkets. We have yet to get anyone at our door who has asked for the non food treats, but I keep them on hand just in case and because it lets Middle Man know that we support him and that we know that Halloween can be a difficult holiday for people with food allergies. But it doesn't have to be!
1. Purchase your non food, allergy friend treats.
2. Put a teal pumpkin on your porch (I got mine at Michael's)
3. "optional" - Download and post one of the posters from the
Teal Pumpkin Project site
and post it somewhere that is visible.
That's all there is to it!
Have a safe and wonderful Halloween!!